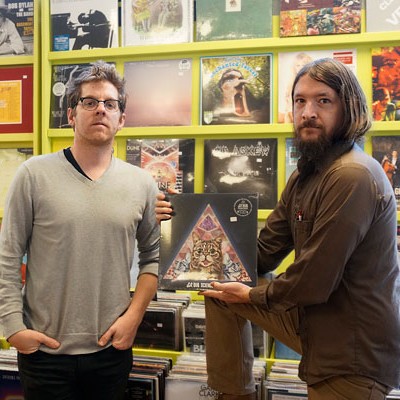 Harvest Records – Opened 2004
Harvest Records is an award-winning record shop started by Mark Capon and Matt Schnable (pictured above) in August 2004.
Our goal from day one has been to provide an authentic, engaging record store experience for our customers without the condescension normally associated with such experiences. We hope any person with any style of musical taste can find what they're looking for at Harvest, and possibly in the meantime be introduced to something about which they normally wouldn't know.
Harvest Records expanded their physical space in March 2011, taking over their suite from Second Gear. Harvest's expansion allows them to offer thousands more titles on both CD and vinyl, as well as turntables, turntable accessories, cassette tapes and most importantly, elbow room. They also now have a small stage to host in-store performances.
For the bulk of their first ten years in business, they were actively engaged in the booking and promotion of hundreds of shows all around Western North Carolina. However, since summer 2013, Matt and Mark have been on an indefinite hiatus from booking shows so as to focus more heavily on the day to day operations of running the shop itself.
---
Published July 2016.